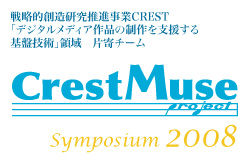 概要

 プログラム一覧
  招待講演
   ・石井 信
   ・Teresa Marrin Nakra
   ・Antonio Camurri

  インタラクティブセッション
   ・後藤グループ
   ・河原グループ
   ・嵯峨山グループ
   ・奥乃グループ
   ・片寄グループ



参加申し込み・宿泊

お問い合わせ先・リンク
English

招待講演 Teresa Marrin Nakra
Conductor's Gestures and Their Mapping to Sound Synthesis



Dr. Nakra will describe her work at the intersection of classical music and new technology. Since 1994 she has researched the art of conducting and developed numerous applications for both experts and novices. This work began with the "Digital Baton," which she designed and patented with a team at the MIT Media Lab. The Digital Baton was used like a 3D mouse to perform sounds in Tod Machover's Brain Opera. Based on that work, she developed a sensor interface called the "Conductor's Jacket," which was worn by numerous conductors in data collection sessions. After analyzing the data, she developed a synthetic orchestra system to allow conductors to control realistic orchestral sounds with gestures. After completing that work at MIT, she founded a non-profit arts organization, Immersion Music, to continue this work. Projects that have applied her research results have included the Digital Conducting Laboratory, the "Concerto for Conductor," the "You're the Conductor" museum exhibit, and the UBS Virtual Maestro kiosk. As a result of those projects, she developed an ongoing research collaboration with the Boston Symphony Orchestra and McGill University. Dr. Nakra will describe the feedback loop of research results fueling applications, which then reveal new questions to be answered.



略歴

Dr. Teresa Marrin Nakra is an Assistant Professor of Music at The College of New Jersey, where she teaches Music Technology, Music Theory, Electronic Music, and Game Design, and advises student researchers and composers. Prior to her appointment at TCNJ, she was the Technical Director of the Computer Music Studio at MIT and taught courses in Electronic Music and Composition at several Boston-area universities. She was a Clifton Visiting Artist in residence at Harvard University in 2002. Teresa founded and runs Immersion Music Inc., a non-profit organization that builds technical solutions for musicians, artists, educators and museums.

Teresa holds an A.B. in Music (magna cum laude) from Harvard University and Radcliffe College, where she studied with Ivan Tcherepnin and Stephen Mosko. She holds an M.S. and Ph.D. from the MIT Media Laboratory, where she worked closely with Tod Machover, Rosalind Picard, John Harbison, and Marvin Minsky. She has received numerous distinctions for her academic work, including Research Fellowships from IBM, Motorola, and Interval Research Corporation. She served for several years as the Assistant Conductor of the Boston Modern Orchestra Project.